GMLive.gml
Shader reloading sneak peek, gmlive-server mini-fix
---
Firstly, I have exciting news! Using what is best described as series of high-end delightful hacks, I was able to implement shader live reloading, which will be available in the next update.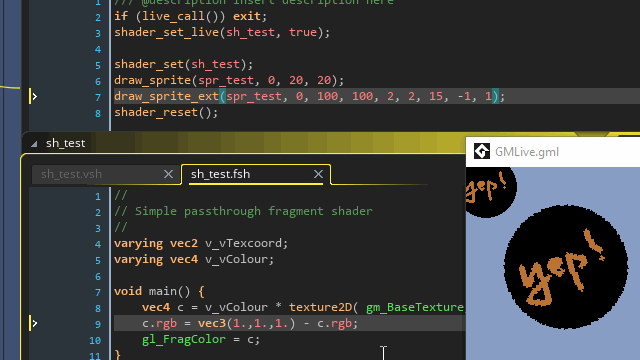 For the initial release this will work for GMS2+Windows, but later might be able to expand this to cover HTML5, and, possibly, Mac/Linux.
At this time it is hard to tell whether supporting GMS1 would be practical, as the shader mechanism (D3D9 vs D3D11) is different.
Also, if you are getting a 0xc000007b error when trying to run gmlive-server, I now uploaded "Unzip this to your included files if gmlive-server doesn't start.zip" that was previously found as a dropbox link in discussion topic. These will be included in the next update.
Files
Unzip this to your included files if gmlive-server doesn't start.zip
217 kB
Jan 12, 2020