Library updates and localization support!
---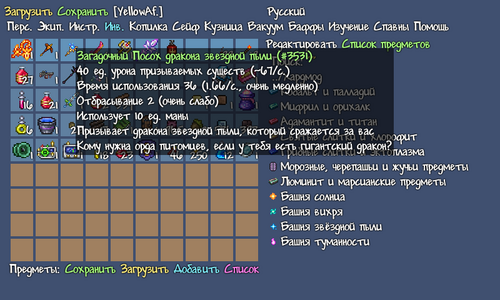 There is now localization support!
Comes with a Russian translation - special thanks to N. Matrosoff for helping with translation itself (Terraria's official Russian translation is not a good reference at all) and contributing a Cyrillic version of the default font that was originally done for a community-made Terraria translation. Additional thanks to uglycoal and terisback for helping with translating category names and other smaller bits.
Take a look at the documentation for how to make your own translations!
You can now customize the display font!
If the default font is hard to read or generally irks you slightly, you can override it on the language tab.
I have reorganized the "Library" tab!
Everything should be now up to date with 1.4 update. I have also merged redundant categories and split up some that are now distinct (e.g. instead of just "Summon Damage" you now have "Summon Damage", "Whips", and "Sentries")
As usual, you can see the current version on the starting screen - refresh or force-refresh (Ctrl+Shift+R) the page if it still shows the last one.